Turning under the edges of your circle fabrics for various applique projects is easy! There are several tools available to simplify the process, and the payoff is worth it. You can achieve great dimension and a lovely finished look with this method. See the end of this tutorial for optional methods for turning under the edges of your trunk shape.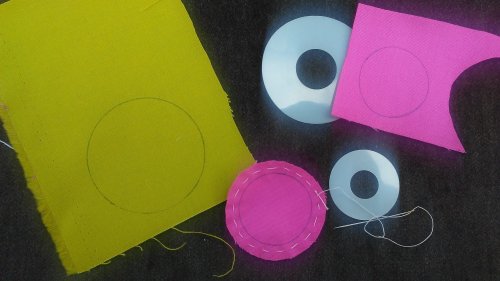 Step 1 = Cut out circles from card stock or template plastic or use the die-cut Perfect Circles by Karen Kay Buckley. Draw circles using your templates onto the wrong side of your fabric (if there is one). Kona Solids do not have a right or wrong side. Frixion pens are handy for this as the marks will disappear with your pressing. Leave a bit of space between each circle, at least ½".
Step 2 = Cut out your circles adding in your seam allowance, usually about ¼" or less.
Step 3 = Use a single strand of regular sewing thread (such as a 50 wt. cotton) on a hand sewing needle of your choice, and knot the end. Do a running stitch in the center of your seam allowance, the smaller the better for even gathers and fewer jags in your curves.


Step 4 = Lay your template back on your fabric and pull the thread, gathering around the template.


Step 5 = Spritz with Best Press or other spray starch or sizing.


Step 6 = Press for a few seconds with an iron through the template using a Wool setting. If you are using Perfect Circles, they are made of heat resistant Mylar and can stand the heat. Paper templates can be used with a cotton setting as well and are reusable, even if they get damp from the starch. They can start to lose the smooth edge after a few uses and produce more wonky circles.


Step 7 = Remove the template after cooling for a few seconds. Press again to reset the fold. Clip excess thread, leaving the tail behind the circle.


Step 8 = Layer circles and pin in the center so that you can fold back half at a time against the pin.


Step 9 = Flip back and apply tiny dots of glue along the rough edge of the fabric, not near the fold of the fabric. Roxanne's Glue-Baste-It comes in various applicator bottles. The syringe style allows you to apply tiny dots but the other styles all work well too. This product means that you will not have to fuss with getting poked or have pins come out while you work, and it dries quickly so that you can handle the circles in about 5 minutes.



Step 10 = Knot a single strand of applique thread or pearl cotton and sew your top circle to your bottom circle using the stitch of your choice. A simple running stitch with pearl cotton (as illustrated above) in a contrasting color is easy to do and looks fun without being too complicated to execute. It leaves visible spaces of fabric between the stitches.



A whipstitch is another easy stitch that can be used to sew your circles together or to apply them to your background. Make them even if you wish, or use varying lengths.


The back stitch is made easily by traveling back a step to the end of the previous stitch, and directing your needle forward the distance of two stitches; this creates a more solid outline without visible fabric between the stitches.



Use the same kinds of stitches to applique your circles to the background fabric.




Your tree trunk can be made with your favorite method. Two options for pre-turning your shapes for sewing are described below.

Step 1 = Start by making a template, either cutting out the kit's card stock print or by photocopying onto your own card stock. You could also use freezer paper or heat resistant template plastic.


Step 2= Turn upside down on the non-fusible (non-sparkly) side of Washaway Applique Sheet material or the non-coated side of freezer paper and trace. This will create a mirror image of the tree trunk which is necessary when the template is used behind the shape fabric. Cut out on the line.



Step 3 = Lay the trunk shape cut from the freezer paper or Washaway Applique Sheet on the wrong side of your trunk fabric.



Step 4 = Press for a few seconds to fuse paper to fabric. It is ok to press on the paper side.



Step 5 = Trim out around the paper shape, leaving about ¼" seam allowance.


Step 6 = Clip the curves just up to the edge of the paper but not into it. You may need more in the steepest of curves and fewer as they become more gradual close to straight areas.

Step 7 = If using freezer paper, apply a fine line of Best Press to the edge of your shape with a cotton swab or paint brush. Press the edges over the template, then carefully remove the freezer paper.


Step 7 = If using Washaway Applique Sheet material, you can leave the paper in place even after sewing. Do not use Best Press. Using a water soluble glue stick such as the Bohin Glue Pen, apply a light skiff of glue close to, but not right up to the edge of the paper, and press your fabric over the edge into it. Work your way around all edges of the shape. Clip away any excess at the points. It is ok to round them off however you see fit! You can even remove them completely and make a straight trunk that goes all the way to the ground or bottom edge of your row where it can be covered by the binding.



Step 8 = Glue baste your trunk to your background and sew down how ever you like. The store sample was sewn down with a tiny tack stitch using Aurifil black 100% cotton 50 wt. thread. This thread is almost lint free and is a dream to sew with in your machine as well as for hand applique. Also available in extra fine 80 wt. Use extra stitches close together along points and in the valleys to help secure.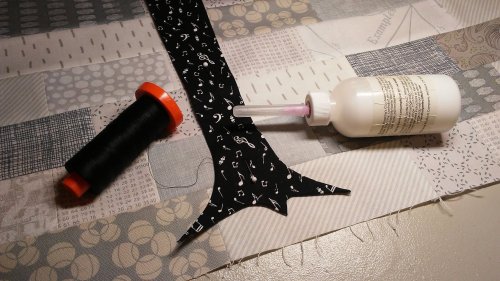 Step 9 = Add lots of circles and finish with gray pearl cotton quilting to symbolize The Wind in the Trees.